Shot Location
H-Bar Location of Miss and Hit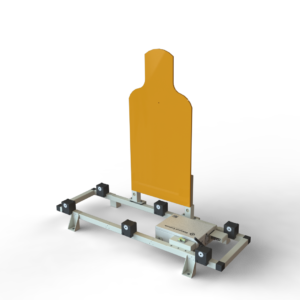 Oakwood Control's H-Bar™ Location of Miss and Hit (LOMAH) Target System is an exciting, new product that maximizes your target shooting and training experience while breaking prior price-to-performance ratios for similar electronic target systems.
Part of Oakwood's "open air" target family and designed for supersonic projectiles, the H-Bar™ scores hits and misses in a large detection window. This allows shooters to use the target system at long distances without having perfect ballistic data and eliminates concerns about missing or damaging a traditional "box target." This portable system design provides optimal feedback at long-range shooting for professionals and enthusiasts.
Precision Box Target System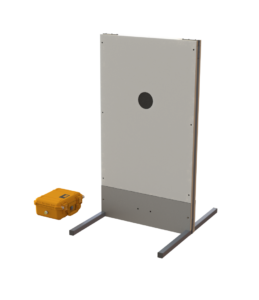 Developed with competition and long range shooters in mind, the Precision Box Target System breaks previous price/performance barriers for electronic target systems. The Box Target can be used with subsonic as well as supersonic projectiles. The Box Target can be permanently installed or purchased as a portable system.
The Precision Box Target System combines a modular aluminum target frame, highly accurate acoustic sensors, and sophisticated signal processing electronics. At the firing line, the shooter sees a display of their shot placement and essential statistics on each shot.
Dynamic Targets
Advanced Running Man Target System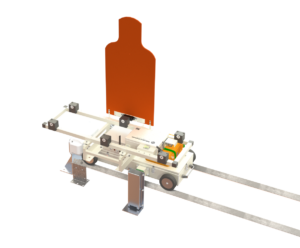 Robust and dependable, Oakwood's Advanced Running Man Training System (ARMTS) provides for the most realistic live fire weapons training.
The ARMTS can be used with standard steel targets, Tactical Target Lifters, Turning Targets, and more. When paired with our H-Bar LOMAH systems, the ARMTS provides you precise real-time feedback of hits and misses.
This system is the ultimate live fire training aid for snipers.
Tactical Target Lifter (TTL)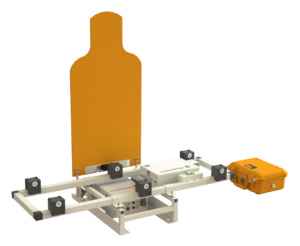 Oakwood Control's Tactical Target Lifter (TTL) is a portable pop-up target system for live fire training. The system is light-weight and robust for field deployable training or may be permanently installed. The Plug and Play design makes it easy to set up and use. The TTL uses standard target commands (hit/fall, expose/conceal, up/down) for simple programming in scenario mode
Expand your range by adding multiple targets to create training scenarios and track your exercise with the TTL control tablet. The system can be upgraded with a LOMAH system for immediate feedback of hits and misses.
(TTL shown with optional H-Bar)
Tactical Target Turner (TTT)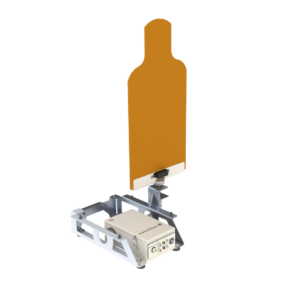 Oakwood Controls' Tactical Target Turner is a man-portable rotary target system for live fire marksmanship training. The system is light weight and robust for quick field deployment and can be permanently installed if required. The Plug and Play design makes it easy to set up and program. The TTT makes use of front and back target faces – either of which can be set as friend or foe – as well as the edge of the target.
The TTT can be easily upgraded with LOMAH (location of miss and hit) capability for detection of hits as well as misses. Different scoring and kill zones can be assigned to front and rear target faces, enabling a truly unique tactical training environment.
Overhead Target Retriever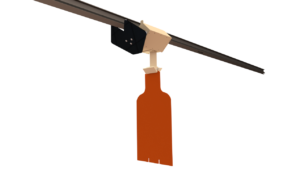 The Overhead Target Retriever is an armored, dynamic rail-mount target carrier. This unit can be moved to standard (fixed) distances as with other target retrievers, but can also be integrated into complex scenarios involving ground equipment.
The Pneumatic Target Lifter (PTL)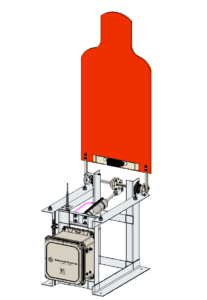 The Pneumatic Target Lifter (PTL) is designed for permanently installation and extremely fast raise/lower times. Typically used in retrofit environments where the air line infrastructure is proven to be sufficient and reliable.
Sniper Truing and R&D Systems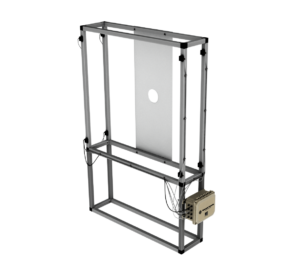 Oakwood Controls combines its state-of-the-art electronic target system and ballistic coefficient (BC) measurement technology to create a portable system for testing, evaluating, and truing long-range weapons platforms. This system can accurately detect any supersonic bullet's impact and measure the bullet ballistic coefficient utilizing either a G1 or G7 model.
Shooter Display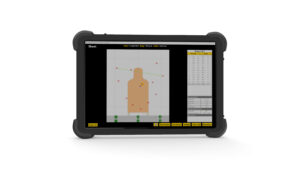 Oakwood Control's Shooter Display Station is a ruggedized tablet display that provides real-time hit/miss data to the shooter.
This system is designed to run our Precision Electronic Target Software and can be used in a portable setting or fixed mounted at the firing line.