Special Operations Forces Industry Conference (SOFIC), Tampa, FL
May 21 – 24, 2018
Join us in Booth #1447 at SOFIC 2018
2018 NRA Annual Meeting, Dallas, TX
May 4 – 6, 2018
It's our first time at the Annual Meeting! Visit us in Booth #2413
SHOT, Las Vegas, NV
January 23 – 26, 2018
We are back for the 40th!!! Visit us in Booth #20657
Special Operations Forces Industry Conference (SOFIC), Tampa, FL
May 24 – 26, 2016
We will be displaying at the annual conference for the first time in 2016!
SHOT, Las Vegas, NV
2016, January 19 – 22
We will be displaying in Booths 20657 and 20136 at the annual convention.
International Association of Chief of Police (IACP) Conference, Chicago, IL
October 24 – 27, 2015
Oakwood will be displaying in Booth 1428 for the annual conference
Shot Spot Target Installation, Carrollton, GA
October 6, 2015
Our Precision Box Targets were installed at Shot Spot's state of the art indoor shooting and retail facility.
National Tactical Officers Association Member Tested and Recommended Award
September 14, 2015
Oakwood's H-Bar Electronic Target System was tested and recommended by the members of the National Tactical Officers Association. The product review and stats will be listed on their online database and featured in The Tactical Edge journal in Fall 2015.
National Tactical Officers Association Conference & Trade Show, Salt Lake City, UT
August 30th – September 4th, 2015
Oakwood displayed at booth 1139 for the annual conference.
NRA's National Rifle Competition, Camp Perry, OH
July 28th – 31st, 2015
Our H-Bar and Box Target systems were on display and available to shoot for all the competition shooters and Guardsmen at the National Matches. Pictures of the completion can been seen here via the NRA Blog by Kyle Jillson.
Joint Press Review, New Holland Rifle and Pistol Club, PA
July 1, 2015
AB Arms and Oakwood Controls welcomed Harris Publication and NRA's Shooting Sports Magazine for a demo our system.
Oakwood Controls H-Bar LOMAH Electronic Target System article by John Parker for NRA Shooting Sports USA
King of the 2 Miles Shoot, Whittington Center, NM
July 1st and 2nd, 2015
Oakwood Controls's own Nick Sicalides traveled to NRA's Whittington Center to support the King of the 2 Miles Shoot (and demo) on July 1st and 2nd. "Thanks to OAKWOOD CONTROLS and Nick Sicalides for coming in and proving that their target systems can compare with European units costing more than double." Eduardo Abril de Fontcuberta, KO2M Match Director, FCSA President
The LBM Blogger on Covert Media Range Day
June 24, 2015
Dead Air Armament, Liberty Ammunition and AB Arms and Oakwood Controls show their stuff a dozen or so industry writers. Check out https://lauraburgessmarketing.wordpress.com/2015/06/24/covert-shooting-ab-arms-modx/ for details.
Tactical Retailer
May 29, 2015
Christian Lowe reviews our system after a day on the range. Check out
http://www.tacretailer.com/2015/05/29/h-bar-target-uses-sound-track-shots/ for the details.
Sniper's Hide
March 28, 2015
We sent one of our H-Bar Systems out to Frank Galli at Sniper's Hide. See what he had to say at
http://www.scout.com/military/snipers-hide/story/1532188-oakwood-controls-portable-h-bar
Griffin & Howe, NJ Rifle Shooting School
February 20, 2015
See our system in action! https://www.youtube.com/watch?v=GXnxfoptspY
Stop by and see us at the 2015 SHOT Show in Las Vegas
7 Jan 2015
At this year's show we will be introducing the shooting and firearms communities to new modules for our Quality Assurance system, a weatherproof model of our successful H-Bar and we will demonstrate how a shooter might utilize Google Glass with our portable target systems. Come visit us at booth numbers 20257 and 30307.
H-bar System introduced to IALEFI organization
November 11-13, 2014
Oakwood Controls H-bar was introduced to the International Association of Law Enforcement Fire Arms Instructors during their conference at the North Caroline Justice Academy in Salemburg, NC. Participants were giving the opportunity to try out the system and see its potential benefits to their departments.
Oakwood Controls attends NTOA conference
September 12-26, 2014
Oakwood Controls traveled to Mobile, AL to attend the annual National Tactical Officers Association's annual conference. Our H-bar electronic target system was demonstrated and used during the association's Tactical Precision Long Rifle course.
Oakwood Controls returns to Camp Perry
July 20 – Aug 8, 2014
Oakwood Controls returns to Camp Perry. For the second year Oakwood Controls four foot by four foot Box targets were used on the sight in ranges at Camp Perry prior to the NRA's High Power Matches.
Oakwood Controls at Precision Rifle Series Matches
May and July, 2014
Oakwood Controls portable Electronic Target Systems were showcased at three Precision Rifle Series Matches this summer. For more information on the Precision Rifle Series and the long range shooting competitions they put on, their website is www.precisionrifleseries.com.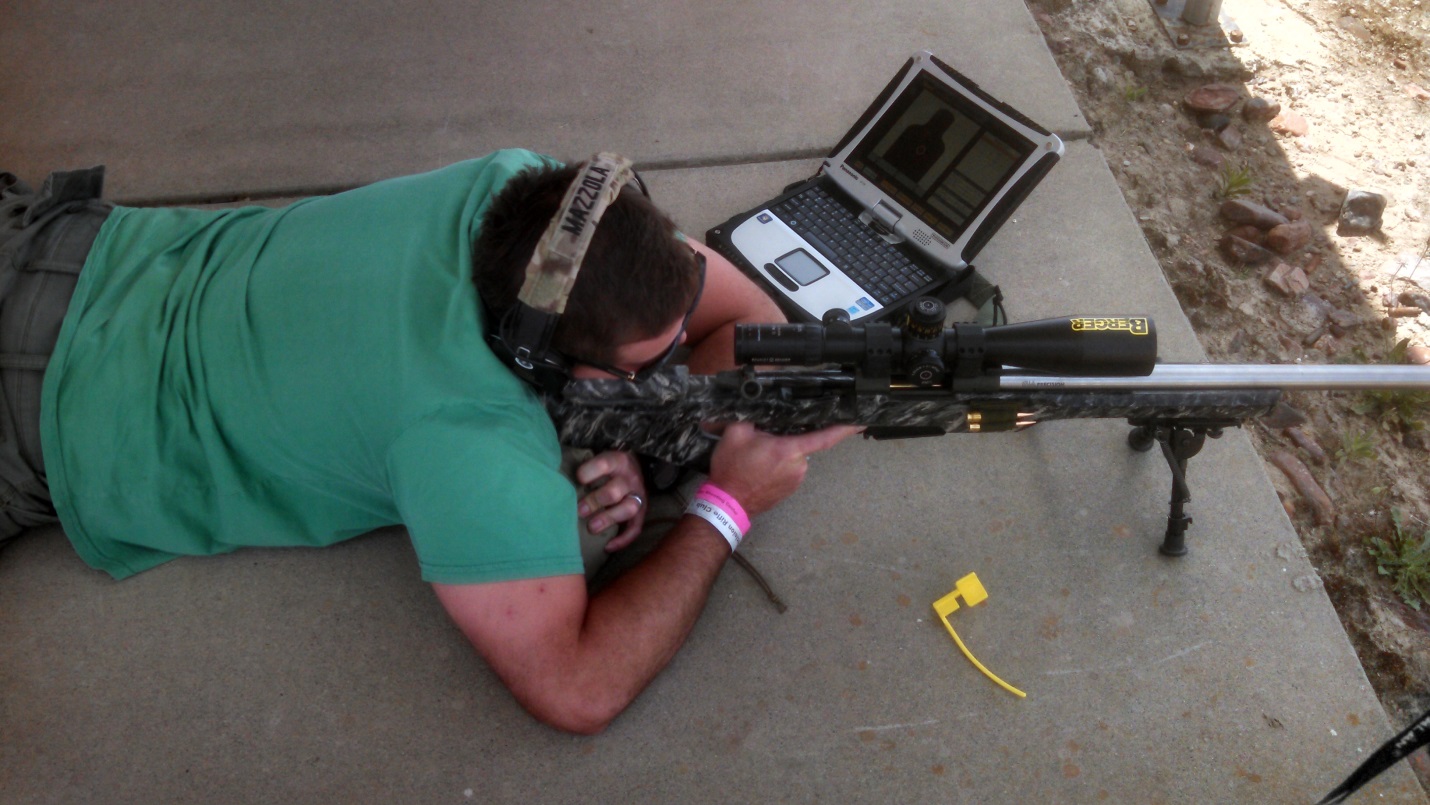 H-bar system Introduced at Sniper's Hide Cup
May 21-25, 2014
Oakwood Controls traveled to Colorado to sponsor and demonstrate its popular H-Bar Electronic Target system at the Sniper's Hide Cup. To learn more about Snipers Hide their website is www.snipershide.scout.com
Oakwood Controls attends TTPCO Conference
April 23-26, 2014
Oakwood Controls attended Texas Tactical Police Officers Conference in Houston Texas
Oakwood installs advanced ballistic research system
20 Sept 2013
Oakwood completed the design and installation of an sophisticated ballistic coefficient measurement system for the US Government. This two-lane system was installed in an indoor tunnel and provides extremely accurate real-time ballistic coefficient and targeting data.
Oakwood Controls wins target system contract with overseas weapons manufacturer
15 July 2013
Oakwood has been awarded a contract to provide a multi-lane production quality assurance target system for an overseas weapons manufacturer.
Oakwood Controls and MGM target systems installed at Tracking Point R&D facility
10 May 2013
Oakwood has partnered with MGM targets to provide a network of target systems for a research and development facility in Texas.
Come see us at the 2013 SHOT Show
1 Jan 2013
Oakwood will have two booths at the 2013 SHOT show. Come visit us at booths 20226 and 2964.
Oakwood Controls exhibits at the 2012 SHOT Show
10 Jan 2012
Come visit us in Booth 20226 at the SHOW Show in Las Vegas — the world's largest trade show for professionals involved in shooting sports, hunting, law enforcement and military industries. We will be showcasing the latest updates to our Electronic Target Systems. Both long-range portable precision systems as well as manufacturing/R&D systems will be displayed.
Oakwood Controls receives sensor technology contract
1 Dec 2011
Oakwood was recently awarded a contract for modeling and simulation of sensor applications. The work will be performed for the US Army RDECOM Night Vision Labs. The contract, which has a ceiling value of $1.4M, was awarded by CACI Technologies, Inc. via its S3 Program.
Simulation engineering contract awarded to Oakwood Controls
12 Dec 2011
The US Army Night Vision & Electronic Sensors Directorate, via CACI Technologies' S3 Program, awarded Oakwood Controls a contract for research, development, engineering and systems integration support for various LVC simulation applications. The contract has a ceiling value of $2.45M.
Oakwood Controls will supply portable electronic target systems to Naval Special Warfare Group Four
3 Oct 2011
The Naval Special Warfare Group Four has contracted with Oakwood Controls to provide a large system of portable electronic targets for precision long-range small-arms training.
Oakwood Controls presents at the 2010 SPIE Conference
6 Apr 2010
Gordon Miller, of Oakwood Controls, is presenting at SPIE 2010. He will be discussing a number of the core philosophies behind the SIU design.
The ETS-1000 System Demonstrated at 2010 Sniper's Hide Cup
23 Mar 2010
Oakwood Controls demonstrated its electronic target system at the 2010 Sniper's Hide Cup, held in Kingsville, Texas. The SH Cup is a three-day event for long distance tactical shooters. This year, over 60 shooters competed over a three day period for prizes totalling over $100,000.
A new look and feel for Oakwood Controls
26 Feb 2010
Oakwood Controls has launched a new and improved website.
http://www.oakwoodcontrols.com
Oakwood Controls is looking for an Electronics Design Engineer
11 Feb 2010
Oakwood Controls has several electronics projects. We are seeking a part-time or project-basis engineer to work on these projects.
View open positions
Oakwood Controls at SHOT Show
19 Jan 2010
Come see Oakwood Controls and its latest Electronic Target System at the SHOT Show in Las Vegas. We are located in the MGM Targets Booth #20439.
Contract awarded to Oakwood Controls
22 Dec 2009
Oakwood Controls is happy to be part of the EOIR Technologies team that has been awarded a 2-year contract to support the Night Vision and Electronic Sensors Directorate (NVESD) with software engineering services. This contract has a $5M ceiling value.
Announcing the Training Platform for Thermal Scopes
3 Aug 2009
Oakwood Controls announces the first live-fire, precision training system for weapons equipped with thermal imaging scopes.
Learn more
Announcing the ETS-1000
3 Jul 2009
Oakwood Controls announces the availability of its ETS-1000 — an innovative electronic target solution for long-range precision shooting and training.
Learn more here
Contract awarded to Oakwood Controls
23 Mar 2009
Oakwood Controls announced today that CACI International has awarded a $2.8M subcontract to support the Night Vision and Electronic Sensors Directorate (NVESD), a US Army center for research and development. This contract has a one year initial period of performance with two option years.
Seeking Software Engineers
2 Mar 2009
Oakwood Controls is looking for software engineers.
View open positions
Announcing the Sensor Interface Module
9 Feb 2009
Oakwood Controls announces the availability of its Sensor Interface Module.
Learn more here